People
The Sustainable Clothing Brand With a Crowdsourced Spirit
Your new favorite pants might have been designed by a chess-playing spiritualist, or a four year old.
For Iris Alonzo and Carolina Crespo, starting a brand together might have seemed like an obvious idea. The pair had been colleagues for over a decade at American Apparel, where Alonzo was the creative director while Crespo ran graphic design and the kids' division. But both had left the company after it was sold to a hedge fund that turned it, in Alonzo's words, from a "very altruistic leadership group to purely profit—and finance-driven." 
And they knew they weren't the only ones at loose ends in the wake of the company's transformation. The Los Angeles factories that had relied on American Apparel for work were struggling in the wake of the leadership transition, which had seen the company moving its manufacturing overseas. Alonzo and Crespo were also getting calls from companies that had bought AA tee shirts wholesale to be customized for branded merchandise—they were wondering if there was anyone who could manufacture locally instead.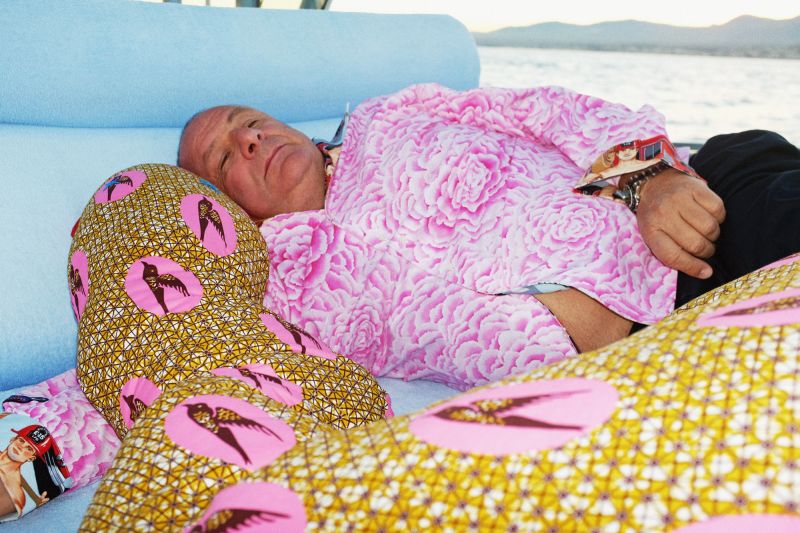 the world just doesn't need more stuff. And if we're gonna put one more damn thing on the planet, let's make sure that there's a reason for it. That there's a purpose.
So when they started Everybody World, their sustainable design collective, they made sure that every facet of the company felt intentional and thought-through. Their Macarthur Park office is furnished completely with items that are either locally-made or secondhand, down to the forks in the kitchen drawers and the vintage Ikea stools that serve as seating. Even the shirts they sell to companies, like The New York Times, are made from 'waste cotton' that otherwise would have ended up  in a landfill. 
Their design process is unusual, personal, and highly specific. Instead of following a single (top-down) vision, they partner with people, usually folks who aren't involved in the fashion industry, to create designs that answer the question: "What's the one thing that's missing from your wardrobe?"
"Someone who thinks a lot about what they wear, whether they're in fashion or not, they have that thing," Alonzo says. "It's, okay, I can never find a pair of jeans that fit me. Or, like, why doesn't someone make the perfect bodysuit? So it's not just the design: it's the purpose, and then it's the person." In other words, everything they manufacture has a reason for being. 
Everybody World also shares 10% of the profits that they make off of each item either with the designer, or with the designer's non-profit of choice. They see this money as a creative person's version of driving for Uber on weekends: by itself, you can't live off of it, but as a little something extra, it can be a big help. 
Their collaborators are a fascinating mix of well-known names and fashion world nobodies, like  The Standard's Creative Director of Food & Culture, Angela Dimayuga; as well as Delores Kerr, who is a nurse, an LAUSD educator, former fashion model, and the founder of Mentors for Youth and Adults Worldwide. Prakash Gokalchand, who plays chess in MacArthur Park, designed the 'perfect' button up shirt and a pair of sweatpants; and Meredith Koop, who used to style Michelle Obama, contributed a "versatile, inclusive, unisex" coat. A four year old named Akira dreamed up pants, and a shirt and sweatshirt with extra-deep "treasure pockets" that can be filled with all the things a four year old might need to carry.
Everybody World is just two years old, but Alonzo and Crespo already know that their partnership is battle tested, and built to last. "It was quite traumatic," when American Apparel was sold, Alonzo says. "We spent so much time together during that time, because we really couldn't—"
"Trust anybody else!" Crespo cuts in, their symbiotic communication evident in the way they share stories. 
They've spent their time at Everybody World reinforcing that bond, working through the friction that inevitably comes up in any partnership. "I think now we're kind of like family: we're not going anywhere," Alonzo says. "We're here to stay, which means we have to work through it. If you start an argument knowing that there's light at the end of the tunnel, it makes it much easier. Because you know you're trying to get to the same place."
"You're trying to resolve it," Crespo agrees. "It's like getting mad at my sister: no matter what, you're like, whatever, fine, we need to get through this."
Everybody World is a deeply personal project for both women; like many entrepreneurs, they spend so much time at the office that it sometimes feels like home. That's more literal for Alonzo, who lives downstairs e in the same building. They've also turned part of the office into a makeshift living space where visitors can crash while they're in town; currently it's being occupied by a blonde named Amy who pokes her head in to say "hi" on her way to dance class. Alonzo's dog Charlie wanders around the office before joining us on the couch, gracefully accepting as many pets as we'll give her. 
It's clear that Everybody World isn't run according to market logic; it's all done at human scale, by people who are less interested in the abstract idea of fashion than in making stuff that will actually be of use to their customers.  
"There's so much stuff being made," Alonzo says. "Our goal is really to change the way it's made so everyone in this process can have a positive experience. You don't have to fuck anyone over, including the planet, in order to make something."